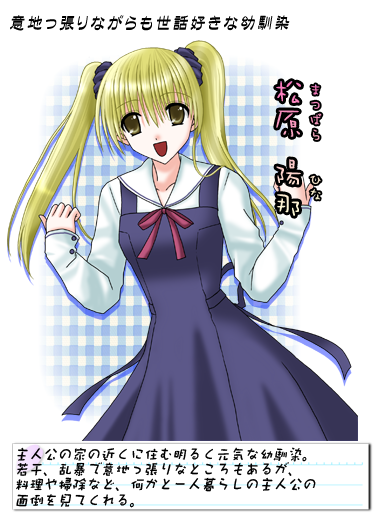 Back in 2010, our game got popular in iTunes Japan and I got curious about local titles. Shockingly, popular anime/manga serializations lie in the $15-$30 range; at this price, local publishers aren't short of customers.
Need an example? Chaos Head Noah ($26) ranks #30 in top grossing adventure games and there's hardly a reason to think it's anything more than a semi interactive bunch of pics with voiceovers and subtitles. Now you think these 'derived products' couldn't be successful without ip, brand, loads of content and a generous lite version, right?
Doujin developer m-kz put it to the test. They did away with the scary price tag and started rolling moe novels at 'app store prices'. For just a buck, Twilight Cherry lightly carries the glamor, emotion and humor characteristic of bishoujo mangas, and does it pretty well. 12 months after its initial release, Twilight Cherry carries on merrily in the JP store, proving that 'moe for less' is a reasonable option for an indie studio.
.
Lots of text
There was something indefinitely enticing about Twilight Cherry that motivated me to offer helping out with a polished english translation. I didn't know what I was getting into when I started playing the game, let alone when I suggested fixing up the translation – not just it takes time, but it requires a reasonable dose of inspiration too! After a dozen sessions at my favorite coffee shop, lolled by sirupy A-pop and sore from typing, I eventually saw the end of it. A month later, m-kz rolled the update and voila! (app store link).
Technology
Long before Apple officially lifted the ban on scripted apps, japanese studios were already using markup solutions to get the job done. Twilight Cherry uses the Artemis engine, a cross platform solution running windows and iOS. I didn't get awfully deep into it, but among interesting things it would seem that even smileys can be used to control the app. WYSIWYG? On the downside, files that combine the original text with markup and translations are fairly hard to read and I would feel sorry to lend them to translators without a technical background.